John Rigby
Middlesex Rugby Life Vice President John Rigby has died, following a brave battle with diabetes and skin cancer. He had spent some time at Northwick Park Hospital where he received dialysis three times a week, but following a fall and other complications, he took the brave decision to end the treatment, with the inevitable consequences. He was transferred to St Luke's hospice where he died on Saturday morning doing the thing he loved most – watching rugby. Until the last he was, as always, in good spirits and still receiving visitors.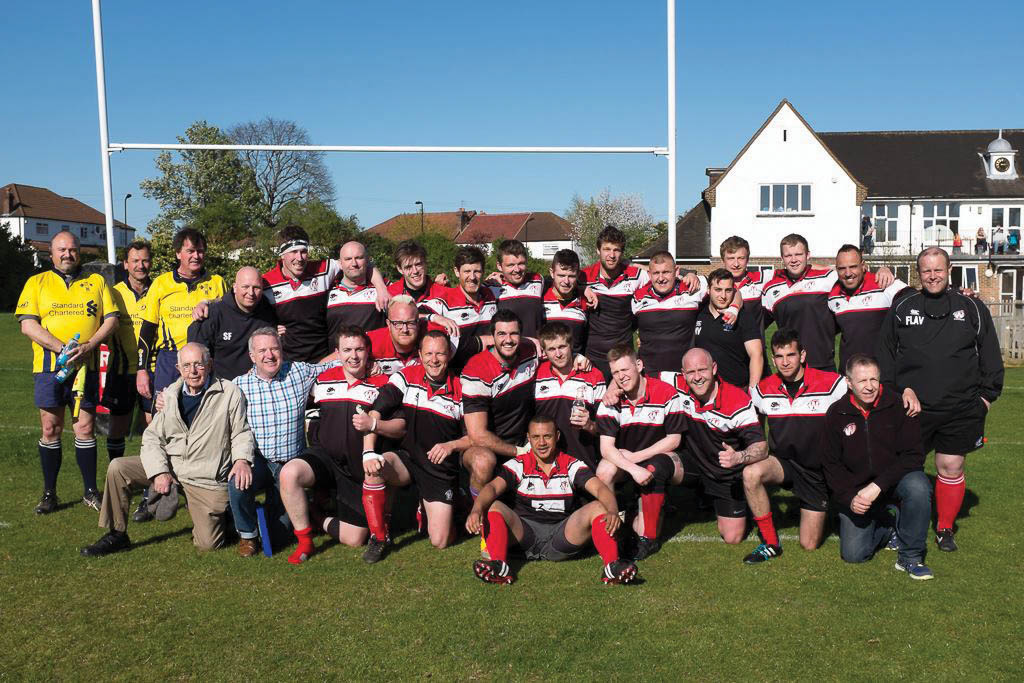 John with his beloved club West London
John had served as county Disciplinary Secretary for many years, attending regular meetings at the East India Club where many a transgressor was assigned to the naughty step. He was also the county's web master during the RFU's early forays into hosting county websites, and for many years continued to keep the Rugby in London club database up to date.
He joined Harrow RFC in 1946 where he fell in with a rugby playing Frenchman with whom he kicked a ball (a leather one) around on the Scrubs at works lunch time. "I travelled with the works team to games on Saturdays and paid my two bob for the jug," he once reminisced.
But it was when his son Stephen started playing at Harrow County School that John became irrevocably hooked on the game. Stephen went on to represent the school and later the County. He continued to play as student at Borough Road and subsequently joined Old Gaytonians so John was hooked for good. When Old Gaytonians became part of West London, he transferre his allegiance there, eventually holding the post of Club Chairman for three years.
His introduction to Middlesex came through David Spyer, then the county's disciplinary secretary, who suggested he join the Disciplinary Panel. He was elected as a life vice president of Middlesex Rugby at its AGM in July last year in recognition of the many years he has given to the county.
"John was devoted to his club and to rugby in general" said past president Michael Barnes.  "A more dedicated man I have yet to meet."
The funeral will be held at Breakspear Crematorium, Breakspear Road. HA4 7SJ at 1.45 pm Friday 30th June, with  refreshments afterwards at Bushey Sports Club, Aldenham Road, Bushey WD23 2TR (formerly The Met Police Club) to continue celebrating 'JR's life.  The family has requested family flowers only but donations may be made to St Luke's Hospice.
And the winners are…
The Middlesex Rugby Volunteers Awards were presented on Friday evening at a glittering awards ceremony at Twickenham Stadium, in combination with the RFU Mitsubishi Awards.
Seven clubs were awarded a President's VII award, whilst four individual volunteers (one from each Group) were recognised for their contribution to their clubs over the last season, along with an overall individual award winner. A presentation was also made to the Young Volunteer of the Year.
Full list of award recipients….  Photos on
Middlesex 7s Festival
The 2017 Middlesex 7s Festival was bigger and better than ever, with more competitions, more teams and more rugby taking place across all 7 pitches at Richmond Athletic Ground.
Left: The Millfield Old Boys captain collects the Derek Mann Cup
Right: Accenture Ladies celebrate their winning the Women's Open 7s Cup
Lomaiviti Rugby 7s won the new open competition, the Middlesex Open 7s, which is a qualifying event for the RFU 24/Sevens National Series. Accenture Ladies won the women's open competition to claim the Flynn Rose Bowl. Both teams now progress to the regional finals of the 24/Sevens at Hazelwood in July.
The traditional club competition, the Middlesex Club 7s Cup sponsored by iLite from Phoenix Sporting Goods, saw Millfield Old boys beat Old Haberdashers to win the Derek Mann Cup, whilst Hampstead Ladies beat Harlequins to win the women's club competition.
Full table of winners and results…     Photos on  
iLite Griffin Cup Finals
A glorious weekend's rugby at Twyford Avenue saw six women's teams compete in the iLite Griffin Cup competition, alongside the U18, U15 and U13 girls who played in the St George's Day girls festival.
Hammersmith & Fulham beat Harlequins 35-5 to win the Griffin Cup, presented by Deborah Griffin OBE, a founding member of the Rugby Football Union for Women, in who's honour the cup is names.  Meanwhile, Pulborough beat Teddington to the post by a narrow margin to win the Plate.
Thank you to our sponsors iLite training lights from Phoenix Sporting Goods.
Merit Table Finals
The finals of the Middlesex Merit Table were played on a gloriously sunny afternoon at Staines on Saturday 8th April. HAC 2nds beat Old Haberdashers 27-20 to claim the Division 1 trophy.
Merit Table Cup Winners
The finals of the Middlesex Merit Table Cup, Bowl and Vase competitions were played at Chiswick on Saturday 1st April.
Bank of England 2nds beat Hayes Baa Baas 43-14 in the Vase final and London Scottish Extra Bs held out for a narrow victory over Old Streetonian 3rds in the Bowl final, winning by a single point 34-33.  Meanwhile in the Cup final, Hampstead 2nds had an easier win over HAC 3rds 62-34.
Middlesex Group Chairman Michael Searls was on hand at Dukes Meadows to hand out the winning trophies, the culmination of the knock-out competition which started in September and has been played over five rounds.
The MMT Vase Competition is open to all teams playing in either MMT 5 or 6, the MMT Bowl for teams who play in either MMT 3 or 4 and the the MMT Cup for teams that play in either MMT1 or 2.
The finals of the Middlesex Merit Table league will be played at Twickenham RFC on Saturday 4th April. Read more…
iLite Middlesex Schools Finals
Allianz Park was home for the last three days (29th, 30th November and 1st December) to 18 teams from 11 schools across the county competing in the Middlesex Schools Finals. The competition comprises U14, U15, U16 and U18 age groups with the more traditional rugby schools competing for the Cup whilst those newer to the game play in the Plate competition.
36 schools entered the competition with more than 90 fixtures played throughout the autumn term, culminating in finals played at the famous Saracens stadium.  "The competition is a great way to get more schools interested and playing rugby, and all the boys enjoy playing in the prestigious surroundings of Allianz Park" says competition organiser Kevin Moran.
The finals were sandwiched between a schools U13 Festival which took place at St James's School on Monday, and an U12 Festival on 2nd December at Staines RFC.  All three events were sponsored by iLite from Phoenix Sporting Goods.
Results in full…..           Photos on   
Middlesex Rugby welcomes
Phoenix Sporting Goods
Middlesex Rugby has announced that Phoenix Sporting Goods has become its latest partner and sponsor. Phoenix will be sponsoring three major Middlesex competitions, the Middlesex Schools Finals which have just taken place at Allianz Park, The Griffin Cup ladies competition finals at Twyford Avenue on 22nd April and the Middlesex 7s Festival at Richmond Athletic Ground on Sunday 30th April.
The company's portable floodlights for training use, iLites, have been tested by Middlesex Rugby's director of playing Bob Lawless and endorsed for their suitability, flexibility, ease of use and portability. "We are delighted to welcome Phoenix Sporting Goods as a Middlesex Rugby sponsor" says Lawless. "Having put their iLites through their paces, we are more than happy to recommend them to our member clubs."
Lee Crocker, Phoenix's managing director, commented, "We are delighted to be associated with Middlesex Rugby and are looking forward to supporting some of their major competitions in the coming season".
Phoenix Sporting Goods was formed in May 2015 to develop and distribute equipment to grass roots rugby, football and cricket clubs in the UK and overseas. The company's aim is to ensure that all products are about quality, strength and performance and aid the development of athletes and their coaches by assisting in the development of their skills.
For more information about iLites, check out their online brochure.
Friends of Middlesex Rugby
The new Friends of Middlesex Rugby membership scheme has now gone live.
The Friends of Middlesex scheme aims to help raise funds to support grassroots rugby across the county and to help its representative squads develop their skills further through quality player development programmes.
Together with its partners at Middlesex County Cricket Club, Middlesex Rugby has put together a comprehensive range of privileges for Friends of Middlesex Rugby to help them support sport in Middlesex, including the right to apply for international rugby tickets, substantial discount on MCCC membership, discounted ticket prices for selected Premiership and Championship matches and VIP invitations to county matches and Middlesex Club 7s.
The scheme is endorsed by Jason Leonard, the most recent past president of the RFU, who has played most of his first class rugby for Middlesex clubs and is now president of Hammersmith & Fulham, who has become it's first official Friend.
"There are some great benefits," says Leonard, "not least of which is the knowledge that as Friends, we're supporting sport across the county and helping young people achieve their sporting dreams. I've already joined, and I would urge you to do the same."
Membership costs just £50 and represents a great return on your investment. Find out more about some of the fantastic benefits of being a Friend of Middlesex Rugby, or to join Jason Leonard as a member, simply complete the application form and start enjoying the benefits.
Middlesex Development Team CRCs
Listen to the latest Podcast from the Middlesex Development Team to hear community rugby coaches Jack Pattinson and Tom Redfern chatting to RDO Ty Sterry about their roles within Middlesex, and some of the great initiatives they're involved with.
Team Middlesex Fixtures
All the fixtures for Team Middlesex squads for the coming season can be found at Team Middlesex Fixtures & Results. These may be subject to change as the season progresses, so please keep an eye on the table for up to date information, results and match reports.